Updates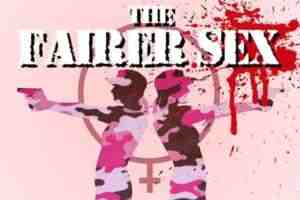 I am happy to be a part of this production and to be making my Theatre Row debut!
From the posting on BroadwayWorld.com
Between Us Productions will present the World Premiere of Sander Gusinow's The Fairer Sex, directed by Samantha Lee Manas. It begins performances on July 27th and will celebrate its opening night on July 28 and run through August 2nd at Theatre Row Studio Theatre.
In The Fairer Sex the battle of the sexes has become an all-out war. The women of the world, fed up with subjugation and sexual violence, have cast off the chains of oppression and staged a global revolution. But all is not well in the New World Order, as the brutal pro-male insurgency has swelled under the grip of a terrifying new leader.
Police interrogators Kristen and Lena apprehend a seemingly innocent young man when the resistance tries to smuggle him out of the hospital. As the secret to his identity unravels, Lena and Kristen clash over the proper course of action. Tensions rise, loyalty is tested, all leading to a climactic, bloody showdown.
A brash dark comedy about passion, vengeance, and sexual politics, The Fairer Sex is certain to shock, inflame, and delight with visceral glee. For mature audiences only.
THE FAIRER SEX begins performances on July 29th and runs through August 2nd, 2015. Theatre Row Studio Theatre is located at 410 West 42nd Street. Tickets are $18 and available at www.Telecharge.com. Schedule: July 29th-31st – 8pm; August 1st – 2pm & 8pm; August 2nd – 3pm. For mature audiences only. For more information about Between Us Productions, go to betweenusproductions.wix.com/betweenusprod.
---